Your free Bitshares DEX account is also your Bitshares wallet. This is a simple guide below to help you create your CLOUD WALLET. Read carefully and make sure to copy and store your password in a safe place OFF your computer!
1. Go to the Bitshares registration page. (link will open in a new tab)
• Register on a desktop/laptop computer. DO NOT create your wallet on a tablet or mobile device. (Chrome and Firefox are the main supported browsers and work well on Windows/Mac, but Safari and others do NOT)
• If you are creating multiple Bitshares wallets on the same computer, MAKE SURE to use a different browser for each wallet.
• Only login to the Bitshares wallet in the browser that you created it, as a special key is pegged to that specific browser. Do NOT login to multiple Bitshares wallets in the same browser, this will cause problems. (IMPORTANT – make sure to bookmark and keep track of the correct browser)
• If you are upgrading your computer: Once you login to your Bitshares wallet in a NEW browser on a NEW computer, again a special key will peg your account to the NEW browser. Once you make this change, do NOT login anymore on the OLD computer browser.
2. Click on the blue CREATE ACCOUNT button on the left.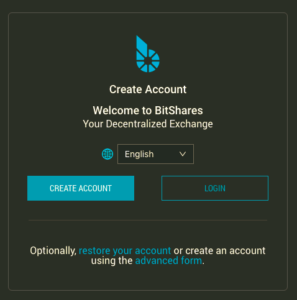 3. Choose your username and password. (Your username is your wallet address, so choose carefully)
• It's best to choose an obscure username, and you must add at least one number at the end of your username.
• A secure password will be auto-generated. Copy and paste this password IMMEDIATELY in a notepad, cloud drive, thumb drive OR piece of paper for safe keeping.
• Confirm the password, check the boxes and click CREATE ACCOUNT.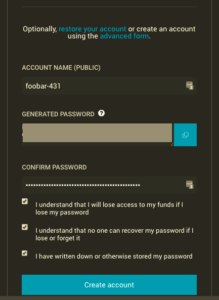 4. Confirmation Page.
• This next page is a reminder AGAIN to save your password.
• Click the blue button at the bottom "OK TAKE ME TO THE DASHBOARD".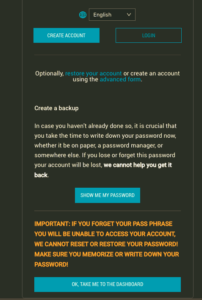 8. Grab a glass of prune juice and bask in the glory of your new Bitshares account! Click the PADLOCK symbol on top right to log in and out, and feel free to allow your browser to save the password. Start poking around the DEX and enjoy!